Twists, Bends, Corners, Straight Sections, etc
Step twists are often easier to fabricate than continuous twists and still have low VSWR over the TE10 operating frequency range.
Single-mitre corners (elbows) are easy to fabricate and give moderate bandwidth while double-mitre corners give larger bandwidth. Bends (which are continuous curves) with large radii of curvature have very good performance but can be harder to manufacture and fit into some systems than elbows. Microwave New Zealand designs and manufactures E and H plane bends, corners, and straight sections.
As well as the rectangular waveguides mentioned above, circular waveguide can have significant advantages for some applications, particularly where seals and o-rings are needed. We design and manufacture rectangular-to-circular transitions and circular waveguide components.

Although copper and brass are sometimes used and have good electrical properties, aluminium is more common and has excellent electrical properties. Stainless steel for food grade equipment is also common.
Most waveguide components can operate at power levels greatly exceeding that normally used at atmospheric pressure. However, without careful design, voltage breakdown can occur at low pressures or with high relative humidity in the guide.
Contact us to discuss your specific problems, ideas, or needs.
Waveguide Auto- and Manual-Tuners
Microwave New Zealand has considerable experience with waveguide tuners, which are used to ensure maximum power transfer to the load material by tuning out the reflected wave. All Microwave NZ tuners can reduce the voltage standing wave ratio (VSWR) to 1.1 or better.
Both manual and automatic waveguide tuners are available up to 100kW at the 900MHz ISM band and up to 20kW at 2450MHz. Auto-tuners are fast, standalone, "plug and play" units that do not require any electrical connection to the generator or applicator. Manual tuners normally require a directional coupler (see below) and manual adjustment to ensure a low VSWR.
Why are our tuners so good? The sturdy copper tuning posts and proprietary choke design ensure that only a very small amount of energy is dissipated as heat in the tuner. None of our tuners require water cooling, unlike those of our competitors. Our auto-tuners use an analytic "dead reckoning" algorithm so they never get "lost and confused" and can respond very rapidly to changing load materials.
Contact us to discuss your specific problems, ideas, or needs.
Directional Couplers, Power Meters, Splitters, Combiners, Water-loads, etc
Directional couplers are passive devices to measure the magnitude of the reflected and / or forward wave. Even when uncalibrated they can be used to indicate whether the load is matched to the generator. When a practical system is matched, the load absorbs nearly all of the available microwave power and the reflected power is very small. Microwave New Zealand directional couplers have high directivity, low insertion loss, and can be supplied with analog meters, analog outputs, or digital outputs.
Microwave New Zealand also designs and supplies waveguide splitters and combiners. These passive components are often used in microwave systems where one microwave generator supplies heating energy to several applicators or at multiple locations along one applicator, to improve the uniformity of heating.
A water load is a matched termination which is used to fully absorb the microwave energy in water flowing through the termination. Water loads are typically used to test the operation of a microwave generator without an applicator or to absorb the inevitable reflected power when a rapidly changing material is heated. Microwave New Zealand can provide water loads or water load designs for the 900MHz and 2450MHz ISM bands.
Contact us to discuss your specific problems, ideas, or needs.
Waveguide Components
Microwave NZ can design and supply waveguide transmission lines (e.g., straights, bends and twists) for connecting generators to applicators. MNZ also designs and supplies automatic and manual impedance matching networks or "tuners" for maximising power transfer. We also design and supply other passive waveguide components such as filters, splitters, power meters, directional couplers, water loads, and transitions (mainly coaxial-line-to-rectangular waveguide, rectangular-to-circular waveguide).
Where possible we use commercial aluminium rectangular hollow section (RHS), which can significantly reduce costs compared to standard waveguide (e.g., WR340, WR430, WR975).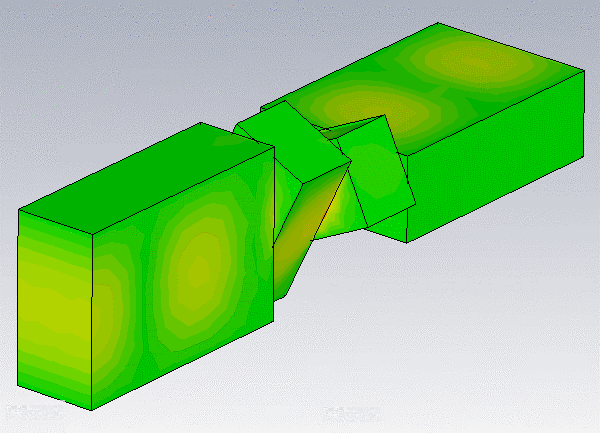 100kW 915MHz Waveguide auto-tuner.
915MHz Dual directional coupler

.
Plot of electric field on a two-section stepped twist

.
E-plane 90 degree aluminium bend

.